Great homemade food in the heart of Penzance.
Welcome to The Honey Pot
Open for sit in & take away
Monday - Saturday 9am-3:30pm
Sundays 10am-2:30pm
Sunday Roast 26th February 12-2:30pm
Mother's Day Roast 19th March 12-2:30pm
Easter Sunday Roast 9th April 12-2:30pm
We are a small café in the heart of Penzance serving wholesome homemade food, cakes, cream teas and artisan coffee to sit in or take away. We have a strong focus on sustainability, with local produce at the heart of our seasonal changing menu and eco-conscious practices standard in our everyday prep and service. With our iconic glass shopfront, cosy interior and stand out food, The Honey Pot has become an institution in the town. The café is open 7 days a week, serving breakfast, lunch, coffee & cream teas every day, with special Sunday roasts on select weeks throughout the winter. If you'd like to book a table please use our online booking form before your visit or give us a call on 01736 368686 if less than 4 hours notice.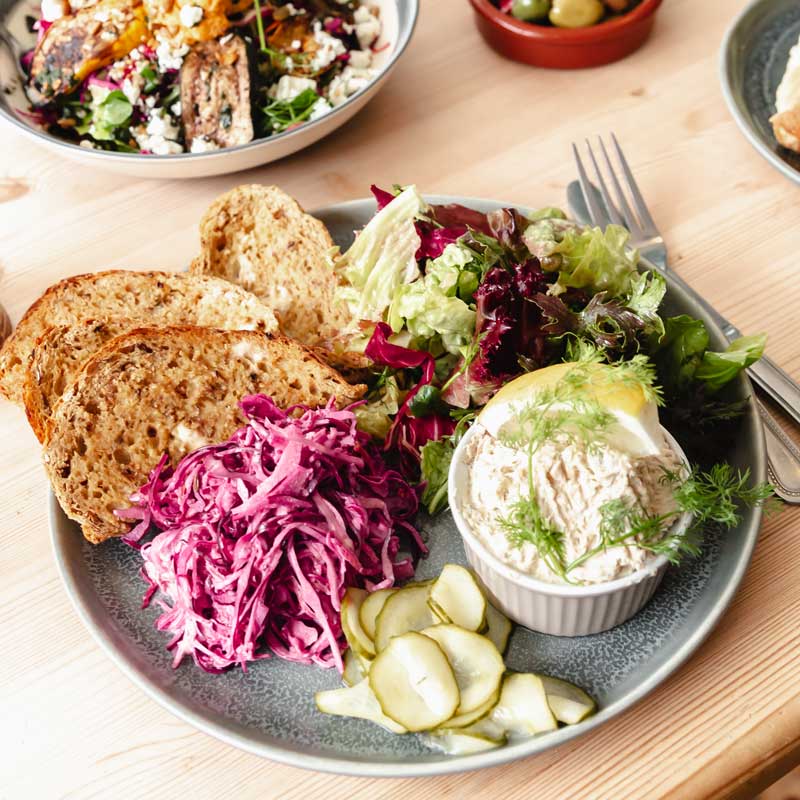 5 Parade Street, Penzance
We are now taking bookings for November, including breakfast, lunch, Sunday brunch and our Sunday roast on November 27th. We're also now taking bookings for our festive evenings, selected Fridays in December for parties of all sizes. Please complete the booking form to select the time you'd like to book and the number in your party. We will get back to you within 24 hours to confirm your booking and let you know if a deposit is required (tables of 6 or more festive evenings). If you'd like to book a table with less than 24 hours notice please call the café on 01736 368686. We cannot accept last minute reservations online. See you soon!
On Tuesday 14th February, we'll be transforming the cafe into a romantic evening space for Valentine's day. There will be plenty of candles, locally grown flowers & relaxing music from around the world. Join us for a three course meal full of flavour & cooked with love by our small kitchen team led by Rachel. …
Join us this December for our festive menu, served every lunchtime (Monday – Saturday 12-3, Sundays 12-2) and Fridays 9th, 16th and 23rd for dinner. We've got a delicious homemade three course menu, plus sandwiches, soups & jackets at lunchtime. We'll also be serving our usual seasonal breakfast menu, Monday-Saturday 9-11:30 and Sundays 10-11:30. If …